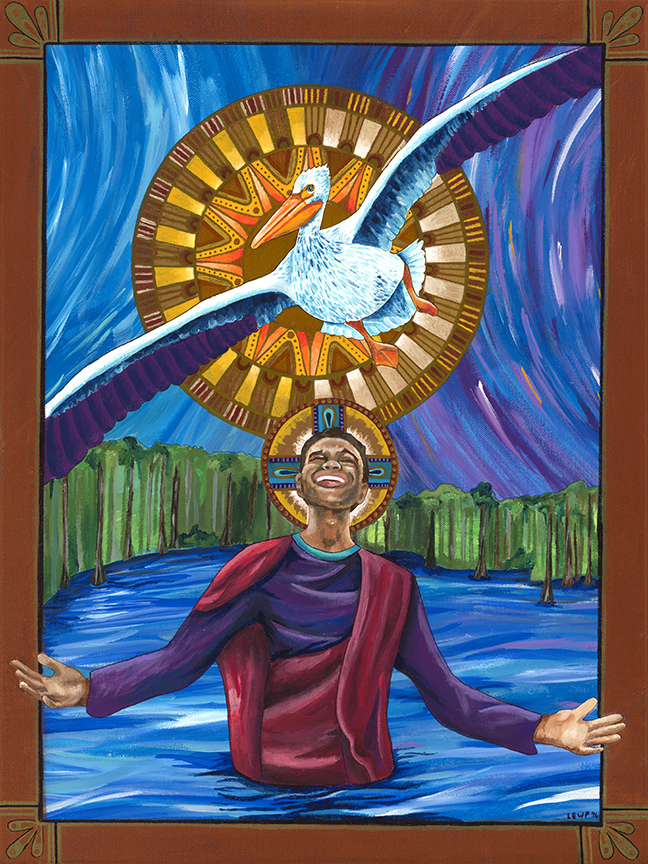 Devotional Art
Bayou Baptism ©2016
This piece was created at the request of some dear friends from seminary. They wanted a Trinitarian depiction of Jesus' baptism set in the bayou. Jesus is stretching out of the frame inviting the viewer to celebrate their own mysterious and wonderful calling from God as he basks in his own. I chose to paint a pelican for the Holy Spirit's descent, because the scriptural texts leave some room for interpretation; the descending figure is described as "like a dove". So, I decided to paint a pelican which is native to the bayou and was also used to depict Christ's sacrifice in medieval Christian art. God the Creator is represented as the sun, with voice waves radiating from the center, expressing how pleased God is with Jesus.
The stretched canvas option comes printed and stretched on an 1.5" thick canvas wired and ready to hang. Comes in 18x24. Be sure to select the stretched canvas delivery option.
The archival fine art paper print comes with an inch white border for ease of matting and framing. Comes in 18x24 and 11x14. Be sure to select the flat print delivery option according to the size of your order. Your print will be rolled and shipped in a tube.
Printed to order. Please allow around 2 weeks for local printing, hand packaging, and shipping.